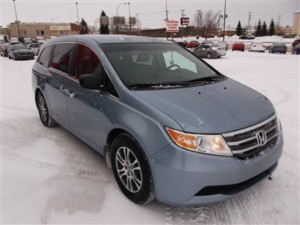 The last few weeks have been a busy time for us. With the addition we have coming in June and with the realization that we were already at capacity in our existing 2008 Toyota Yaris at Christmas, we knew we'd be needing a vehicle with a bit more space and a bit more flexibility. With that in mind we went searching for a minivan and after considering the Honda Odyssey, the Chrysler Town & Country and the Toyota Sienna we've decided on a 2011 Honda Odyssey EX. We've made a deposit and expect to pick it up late next week and we'll be selling the 1997 Toyota Corolla that Alix has had for several years to keep us a two vehicle family.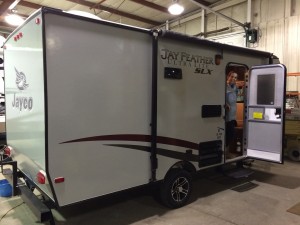 One of the reasons why we wanted a minivan instead of a small SUV or crossover was because of the towing capacity that most minivans offer (plus, sliding doors.) Both of our parents had trailers when we were growing up and while we've been happy to tent on our own for the past few years we decided that it was time to give in and upgrade to a trailer. So after seriously considering Jay Feather's, Jay Flight's, Cobblestone's, Clipper's and Pro Lite's, and looking at many others, we decided today on a 20.5′ 18FDB Jay Feather SLX. It should sit at or below the 3,500 lb towing capacity of our new minivan with that listed as it's GVWR. We've placed a deposit on it and expect to take possession in late April or early May, maybe taking it for a test run over May long if Alix is comfortable enough and certainly making use of it in July, August and September.
Well, that's all we have for now. Thanks for reading!